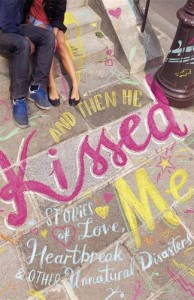 Today is the publication of Walker's fab romantic short-story anthology, AND THEN HE KISSED ME.
Toe-curlingly good (and bad!) kisses, boys next door, spots on date night, first love, unlove, passion, heartbreak…and other unnatural disasters. This is a collection of romantic short stories from some of today's bestselling women's and teen fiction writers. Ever fallen in love? Ever fallen out of love? Ever fallen in love with someone you shouldn't have…? Nine authors write about first kisses, love, heartbreak and everything in between in this short story anthology. It is a unique collection combining the work of bestselling women's fiction writers and children's authors. Authors include: women's writers Cathy Kelly, Monica McInerney, Adele Parks and Sinead Moriarty; and teen authors Katie Dale, Abby McDonald, Joanna Nadin, Dyan Sheldon and Sarah Webb.
I'm so excited to share the stage with so many amazing authors. My story, EXTRACURRICULARS, follows the chaos (and, perhaps, kissing) that ensues when a reclusive book-worm finds her secret library spot invaded by the year twelve Romeo. It was a lot of fun to distil a story to just a few thousand words, and this also has the dubious honor of being the first thing I've written set at my old sixth form college in Sussex, England.
AND THEN HE KISSED ME is available in British bookstores, and to order online! Check it out.
http://www.amazon.com/And-Then-He-Kissed-Me/dp/1406340030
http://www.waterstones.com/waterstonesweb/products/and+then+he+kissed+me/9618391/