Just to let you know, THE LIBERATION OF ALICE LOVE is a FREE ebook download for nook and kindle.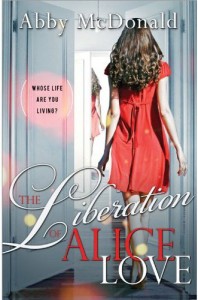 Clever and elegant, this novel forces you to think about how far you'd go to find the truth, and how many lies you'd tell to uncover it. Alice Love keeps her life (and boss, and family) running in perfect order, so when her bank card is declined, she thinks it's just a simple mistake. Sadly, someone has emptied her bank account, spending her savings on glamorous holidays, sexy lingerie, and a to-die-for wardrobe, and leaving Alice with lots of debt. But she soon wonders if perhaps her alter-ego's reckless, extravagant lifestyle is the one Alice should have been leading all along…
Check out the book critics called, "Refreshing, fun, and sexy" and "chick-lit on a mission".