Boys, Bears & a Serious Pair of Hiking Boots
Can a Jersey girl survive the wilds of Canada with her eco-identity intact? A witty new YA novel.
On sale April 13th!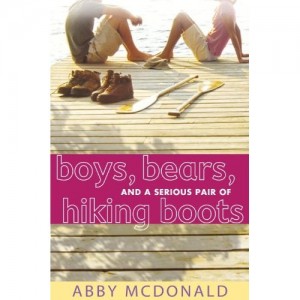 Jenna may hail from the 'burbs of New Jersey, but Green Teen activism is her life, so she leaps at the chance to visit her hippie godmother, Susie, up in rural Canada. Jenna is psyched at the chance to commune with nature for the first time — and the cute, plaidwearing boys she's certain must roam there.
But after a few run-ins with local wildlife (from a grouchy old moose, to Susie's sullen Goth stepdaughter, to a hot but hostile boy named Reeve), Jenna gets the idea that her long-held ideals, like vegetarianism and conservation, don't play so well with this population of real outdoorsmen. A dusty survival guide offers Jenna amusing tips on navigating the wilderness — but can she learn to navigate the turns of her heart?
"Five stars. A summer romance that's funny, environmentally-friendly, and hard to stop reading." – Teensreadtoo.com
"A fun summer read." - Publishers Weekly
"I read this novel over the span of a few hours and really felt like I'd been dropped in a Canadian river alongside our narrator." – Write Meg
"Absolutely the most adorable book ever." - Peeta, Goodreads.com
"A coming of age, romance filled, fun contemporary book; Boys, Bears, and a Serious Pair of Hiking Boots is a book worth reading for every teenage girl." - Black and Blue Ink