Dangerous Books
Dangerous Boys — Coming August 14th!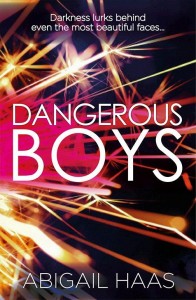 It all comes down to this: Oliver, Ethan, and I.
Three teens venture into an abandoned lake house one night. Hours later, only two emerge from the burning wreckage. Chloe drags one Reznick brother to safety, unconscious and bleeding.  The other is left to burn, dead in the fire. But which brother survives? And is his death a tragic accident? Desperate self-defense? Or murder . . .?
Chloe is the only one with the answers. As the fire rages, and police and parents demand the truth, she struggles to piece the story together – a story of jealousy, twisted passion and the darkness that lurks behind even the most beautiful faces . . .
***
Dangerous Girls — OUT NOW
Two girls plus one boy equals murder….
It's Spring Break of senior year. Anna, her boyfriend Tate, her best friend Elise, and a few other close friends are off to a debaucherous trip to Aruba that promises to be the time of their lives. But when Elise is found brutally murdered, Anna finds herself trapped in a foreign country, fighting against unthinkable accusations. As Anna sets out to find her friend's killer, she discovers hard truths about her friendships, the slippery nature of truth, and the ache of young love.
As she awaits the judge's decree, it becomes clear that everyone around her thinks she is not just guilty, but dangerous. When the truth comes out, it is more shocking than you could ever imagine…
"A compulsively readable, hair-raising snapshot of 21st-century legal spectacle." – Kirkus Reviews
"The best teen thriller I've ever read." Wondrous Reads
"I haven't wanted to talk about a book this much since Gone Girl" goodreads.com
Order from amazon and amazon UK — B&N — iBooks — indiebound