That's right, in just 7 short days, my new YA GETTING OVER GARRETT DELANEY will be published!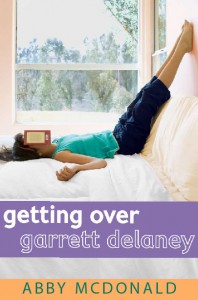 "Charming and poignant… perfect for anyone who's ever had to mend a broken heart." - The Fug Girls, authors of Spoiled and Messy.
Seventeen-year-old Sadie is in love: epic, heartfelt, and utterly one-sided. The object of her obsession — ahem, affection — is her best friend, Garrett Delaney, who has been oblivious to Sadie's feelings ever since he sauntered into her life and wowed her with his passion for Proust (not to mention his deep blue eyes).
For two long, painful years, Sadie has been Garrett's constant companion, sharing his taste in everything from tragic Russian literature to art films to '80s indie rock — all to no avail. But when Garrett leaves for a summer literary retreat, Sadie is sure that the absence will make his heart grow fonder — until he calls to say he's fallen in love. With some other girl! A heartbroken Sadie realizes that she's finally had enough. It's time for a total Garrett detox!
Aided by a barista job, an eclectic crew of new friends (including the hunky chef, Josh), and a customized self-help guide, Sadie embarks on a summer of personal reinvention full of laughter, mortifying meltdowns, and a double shot of love.
This book is close to my heart, since we've all had to deal with unrequited love (more on that later this week…) so I've been thrilled to see the first early reviews come in. Kirkus say "Comedic and candid… Plain Janes and lovelorn teens will appreciate the sound self-help tips and be inspired," and Publishers Weekly call it an "entertaining antiromance… McDonald turns the tragedy of unrequited love on its head as she traces her heroine's determined and often comical efforts to find herself and become more independent."
You can read a SNEAK PEEK right now, and pre-order a copy from amazon or Barnes & Noble, but why not check back in tomorrow, when I'll be launching a fab contest to win your own – plus more fab goodies!