Just a quick post to let you know that THE ANTI-PROM is out now in paperback!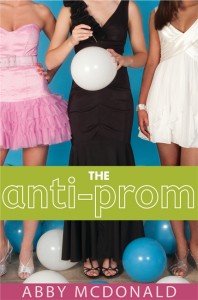 Three unlikely allies team up for a night of rule-breaking, romance, and revenge!
They've spent years at the same high school without speaking a word to one another, but that's all about to change.
Popular Bliss was having the perfect prom until she found her BFF and boyfriend making out in the back of a limo.
Bad girl Jolene wouldn't be caught dead at the prom, yet here she is, trussed up in pink ruffles, risking her reputation for some guy.
And shy, studious, über-planner Meg never counted on her date's standing her up and leaving her idling in the parking lot outside the prom.
What happens when three very different worlds collide? One unforgettable night. Get ready for The Anti-Prom!
***
Publishers Weekly calls it "wicked fun in formal wear", while the School Library Journal says it's "Filled with humor, crackling dialogue, snarky attitude, and sexy formal dresses… this buddy tale flouts expectations to depict a memorable-and brazenly unique-prom experience."
So, what are you waiting for? Find it now on amazon!
(UK readers, the brand shiny new version will be published on your side of the Atlantic in May. Stayed tuned for the gorgeous cover reveal soon!)