I'm so excited to share the cover and blurb for DANGEROUS BOYS, my follow-up to DANGEROUS GIRLS!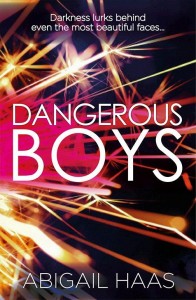 It all comes down to this: Oliver, Ethan, and I.
Three teens venture into an abandoned lake house one night. Hours later, only two emerge from the burning wreckage. Chloe drags one Reznick brother to safety, unconscious and bleeding.  The other is left to burn, dead in the fire. But which brother survives? And is his death a tragic accident? Desperate self-defense? Or murder . . .?
Chloe is the only one with the answers. As the fire rages, and police and parents demand the truth, she struggles to piece the story together – a story of jealousy, twisted passion and the darkness that lurks behind even the most beautiful faces.
***
What do you think? DANGEROUS BOYS will be published August 14th, and I can't wait for you to meet Chloe and the boys. It's not a sequel, but I can promise you that it's just as dark, twisted, and thrilling as DG.
Don't believe me? Here are some early reviews!
Haas delivers something better than a murder mystery… she delivers complex psychology that had me questioning everything, wondering if I should be looking over my own damn shoulder, and hanging on every single word…This story fascinated me on every level. ***** 5 stars. – Emily May, Goodreads.com
Abigail Hass has delivered another nail bitingly suspenseful book that will keep you on the edge of your seat and tips of your toes…This is a special book and a special author. This is the kind of storytelling and writing that stick with you no matter how much time passes. ***** 5 stars – The Book Geek Reviews
As with Dangerous Girls, the closing left me with a huge, admittedly rather twisted smile on my face. I don't know how Haas manages to turn me into such a gleefully evil creature every time, but when you find an author who makes you embrace your inner sociopath, you become a fan for life. — ***** 5 stars. — Dahlia Adler
Can't wait? Add now to your Goodreads list, and UK readers — preorder from amazon.
{ 0 comments }