You've all been asking when Dangerous Boys will be published in the US, and I know I've been holding off a firm reply. I've been on submission to a bunch of different editors for the last six months now, hoping for a US deal…
And they've all rejected it.
Now, rejection isn't something authors really talk about – not after we get our first deals. Although plenty of us will say how long it took to get that debut accepted, it somehow seems taboo to talk about the failure that can come after that. About poor sales, and rejections, and cancelled contracts.
Because the truth is, while Dangerous Girls has been the most beloved book of my career (my favorite child), when it comes down to the cold hard fact of sales numbers, it's been a big commercial failure. You guys have loved it: you tweeted, and wrote amazing reviews, and freaked the hell out over that ending, and not a day goes by when I don't see a status update going, 'OMG I CAN'T EVEN', and it brings me so much joy, I can't even tell you. But in the entire year since publication, Dangerous Girls has sold fewer than 450 copies in hardback.
450. And I'm rounding up.
Any author will tell you, there's only so much promotion budget to go around, and many books don't get a piece of the pie. DG also released last summer, at a time when the publisher and B&N were at a stand-off. It wasn't on shelves anywhere, so people couldn't discover it. It happens. Sometimes there's a reason, and sometimes it's just a fact of the industry. The ebook numbers are better, and the paperback has just come out, so maybe that will turn around, but at the time we submitted Dangerous Boys, that was the data publishers had to go on, and honestly, I don't blame them for taking a pass.
Publishing is a numbers game, and regardless of what was going on behind the scenes, my sales figures say that nobody would care less if I released another book again. Editors didn't want to take that risk, especially not considering Dangerous Boys is another dark, twisted, provocative book.
I'm not going to lie: pouring my heart into that story, into Chloe and Oliver and Ethan, and then getting rejected all over town (sometimes more than once!) really threw me in a spin. I doubted myself as a writer, doubted that the book was worth anything at all. Maybe they were all right. Maybe it wasn't worthy of being published. But something changed my mind. You guys.
Everyone's been so excited about the book. And when I turned in my draft to Simon & Schuster UK (who bought it in a two-book deal back with Dangerous Girls), they loved it too. They've been a dream to work with, so supportive and energized, and when the first reviews started coming in, the readers responded amazingly. You get this book, get how dark and twisted it is, and you love it all the same. Some of you even like it as much as DG, which is something I never thought was possible!
You all have been so supportive and excited, I don't want you to miss out. I'm not going to wait around on the off-chance a US publisher reconsiders – and it takes another year to get the book on shelves.
Which is why I'm thrilled to announce that I'm going to be self-publishing Dangerous Boys as an ebook-only release on August 14th, to match the UK/Australian release!
The book will be priced at a special launch price $5.99 and although it's only a digital format right now, I hopefully will figure out paperbacks down the line. It will be available for Kindle, Nook, Kobo, and iBooks. And you can even preorder from iBooks and Amazon right now: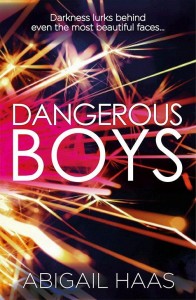 Amazon amzn.to/1wrph3u
iBooks bit.ly/1mS0PXB
I'm so excited and nervous to be taking this risk, but I truly believe that this book will find readers out there. It's challenging, and difficult, but we need that sometimes. We need books that don't flinch away from the sharp edges inside us all. Books about people making bad decisions – and maybe not regretting them at all. Books that explore the knife's edge between love and hate, about bad girls, and anger, and lust, and doubt, and pain.
Dangerous Boys is a story about all those things. About a girl, and two brothers, and the crazy, fucked-up things they do. And on August 14th, you'll get to experience it for yourselves!
I've got some great things planned for you all: teasers and giveaways and a big blog tour. I hope you're as excited as I am. (And that you pre-order the book!)
Xx
Abby
Ps – if you're a blogger and would like a copy of Dangerous Boys for review, or to take part in the blog shenanigans, let me know! Email abby.mcdonald@gmail dot com.
{ 0 comments }